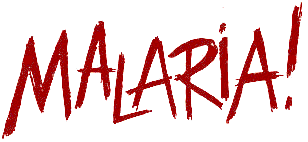 BIO
In the depths of January 1981, BETTINA KÖSTER and GUDRUN GUT stepped from the smoldering ashes of their previous band MANIA D shouldering the yoke of a feverish new project they called MALARIA!. And with the release of the maxi EP "Malaria!" in April that year, the fever spread.
The band filled out to include MANON P. DUURSMA, NL ("O.U.T." an early Nina Hagen project), CHRISTINE HAHN, USA (Static, Glen Branca) and SUSANNE KUHNKE, BRD (Die Haut) absorbing their diverse backgrounds and personalities and grew.
A first European tour followed during which they appeared on a John Peel session for the BBC and later recorded the single "How do you like my new dog?" for the Belgium label Les Disques du Crepuscule.


Malaria toured the US next appearing with The Birthday Party, John Cale, and one unforgettable gig together with Nina Hagen in New York`s infamous Studio 54 night club. This tour was the first that promoted New German Music in the United States. Meanwhile Malaria recorded the 12" "New York Passage (Your turn to run)" for Cachalot records which went on to reach the independent top 10 in the U.S. as well as in Europe.
During another tour of Europe the band gave birth to "White Water" a 12" long player including "Kaltes Klares Wasser" which went on to become an Indi-classic.
In 1982 Malaria released to critical acclaim their first album, "Emotion". It was licensed to Nippon Columbia in Japan and the video "Geld/Money" (directed by B.Bühler and D.Hormel) won prizes for its innovative editing style. Tours of England, France, Benelux, Italy and Scandinavia followed.
In 1983 three new titles were released, produced by M. Hönig at the Hansa Studio in the shadow of the Berlin Wall. Another US tour brought with it the Live Edition "...Revisited"(ROIR) as well as a U.S. recording of "You You". A video clip of the song was directed by Anne Carlisle.
A year later "Beat the Distance" was released by Rebel Records. Then inevitably the group, like petals of a flower that had blossomed and matured giving not only its scent, but too, pollinating gardens of creativity across oceans with the spoors necessary to the eternal cycle of crossbreeding, fell from the slender stem as in a wind twisting each in their own directions: Bettina and Christine to the United States; Gudrun, Manon and Susanne to new vistas in Germany, and so with this end began a 7 year sleep, seeds lying dormant to be culled to life perhaps in some future age.
It was summer now, in the hot, sweltering gulf air of New Orleans that breeds tornadoes across the heartlands of america, Malaria awoke as Bettina, Gudrun and Manon melted a reunion of friendship into a reincarnation of music. This came on the heels of "Compiled" a collection of old Malaria songs released in summer on Moabit Records. On the banks of the Mississippi they recorded "Old Man River" (produced by Jim Thirlwell of Foetus fame, released on "Elation" EP). And while they recorded they explored the surrounding swamps and inner corners of New Orleans culture loosely plotting a return to Berlin to search the trail left so long ago. The results are captured forever, on "Cheerio", a compilation of love songs on Moabit Records, mature, floating, transcending, mellowed, having lived, living and moving like a river, power not to be measured by speed or the keeness of the eye.
M.Ford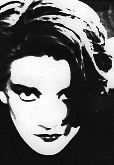 Bettina Köster
---

malaria! versus - the remix album 4/2001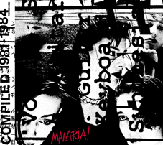 malaria! compiled - 1981-84 the original tracks

album as mp3 download kompakt-mp3.net
---

DISCOGRAPHY

PICS& COVERS

KKWASSER

LYRICS
---